WEASELFACE NEWS!!!
2018-11-11
New album out!

Armed & Misfit - 10 hot tracks

It is the legendary Thomas Skogsberg at Sunlight Studio, whom fixed the sound!

- Punk -

Tracklist
A1 Fucked Up And Wasted
A2 Wolf
A3 Gimme Hell
A4 Your Face Too
A5 Dont Take It Away
B1 Sunday Morning Hell
B2 Im A Star
B3 White Trash And White Hose
B4 Strutter
B5 Seventeen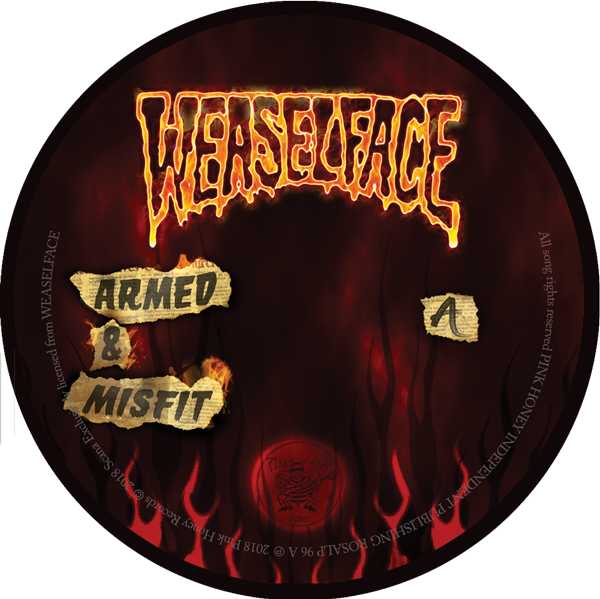 Get your rocks off!
2016-06-06
Pics from last nights gig!

Gig at Pet Sounds Bar with Quantum Leap (Uppsala), Sgt. Cyanide (Stockholm) and Pointless Sympathy (Kalmar)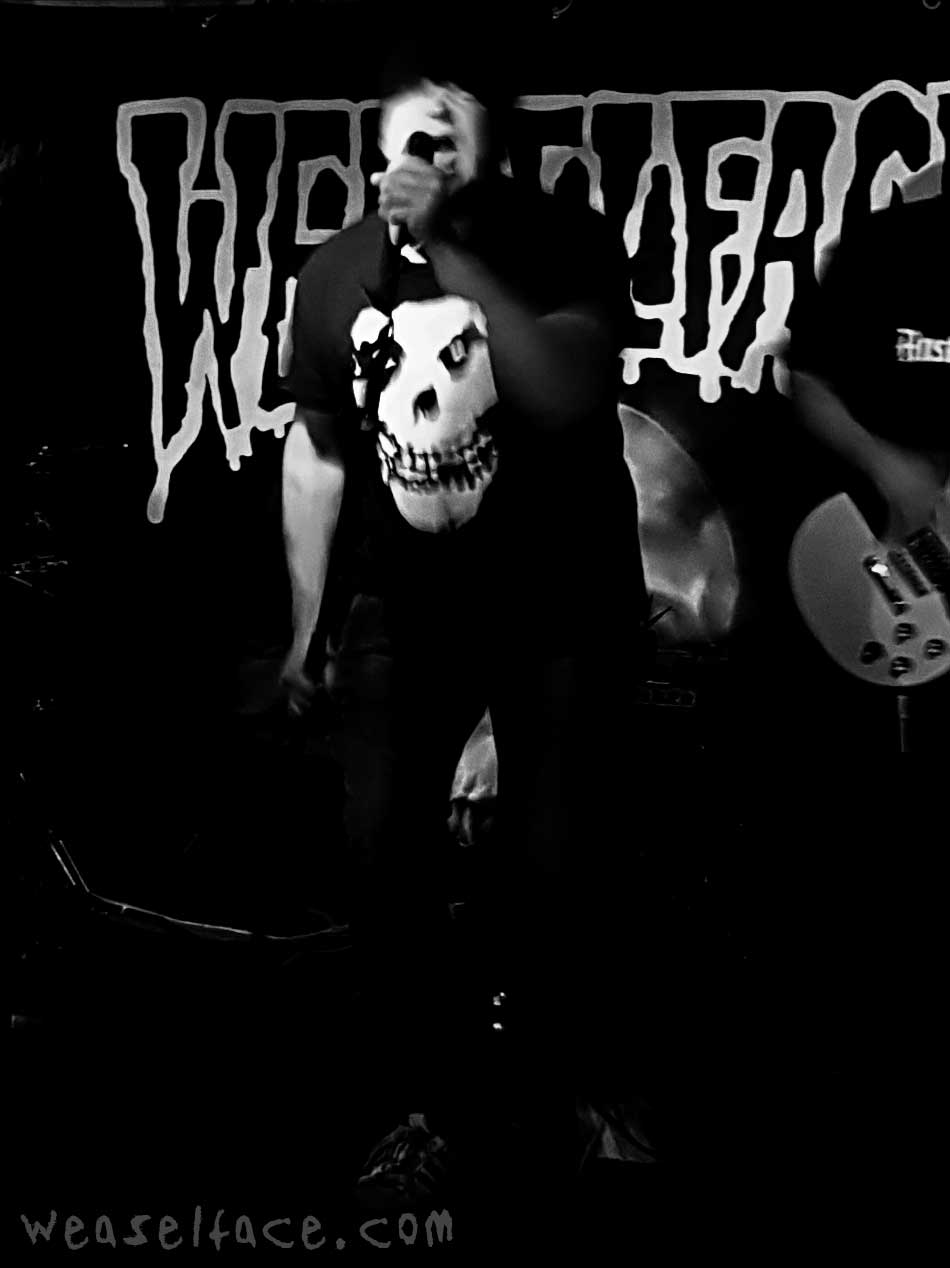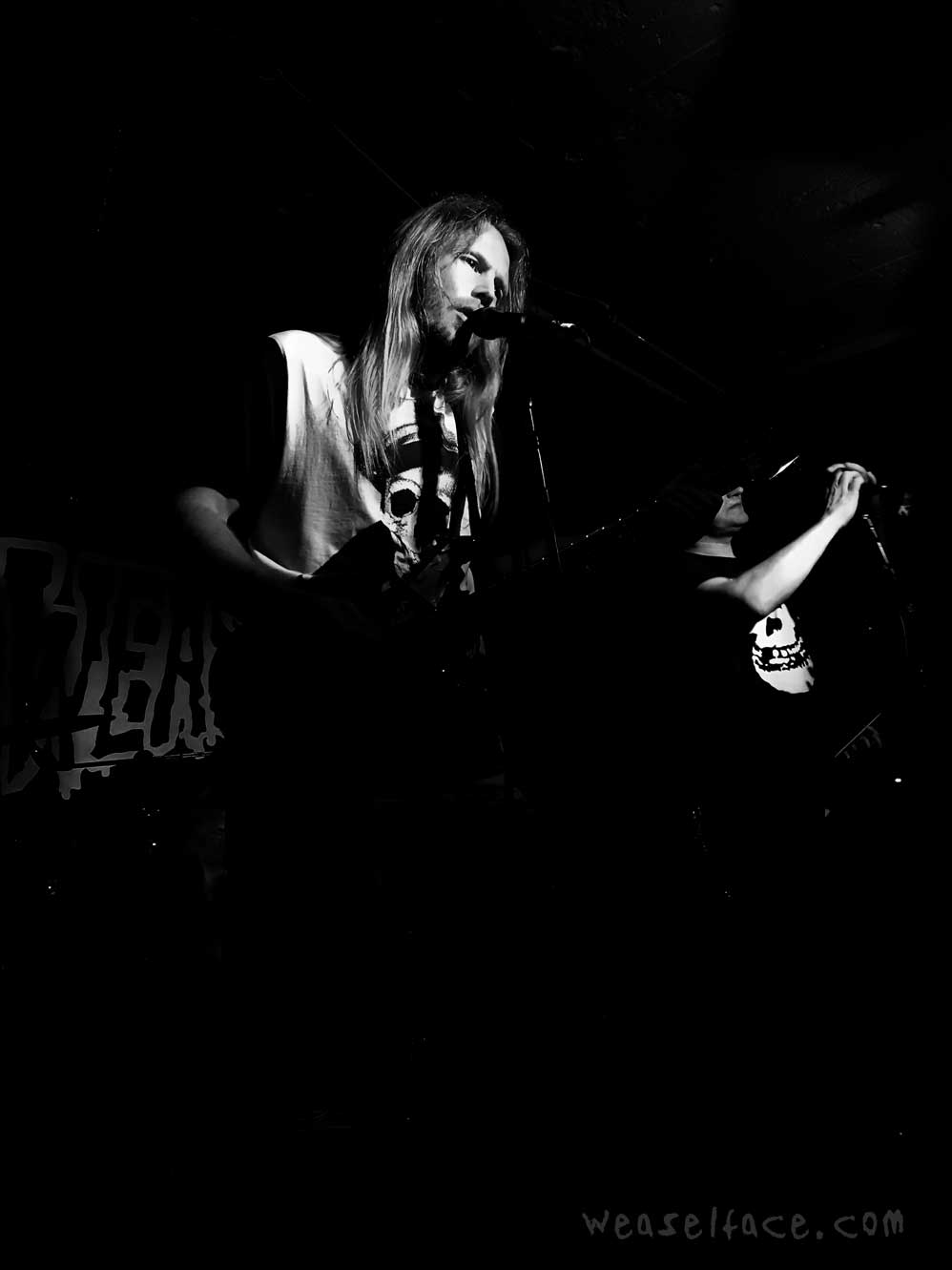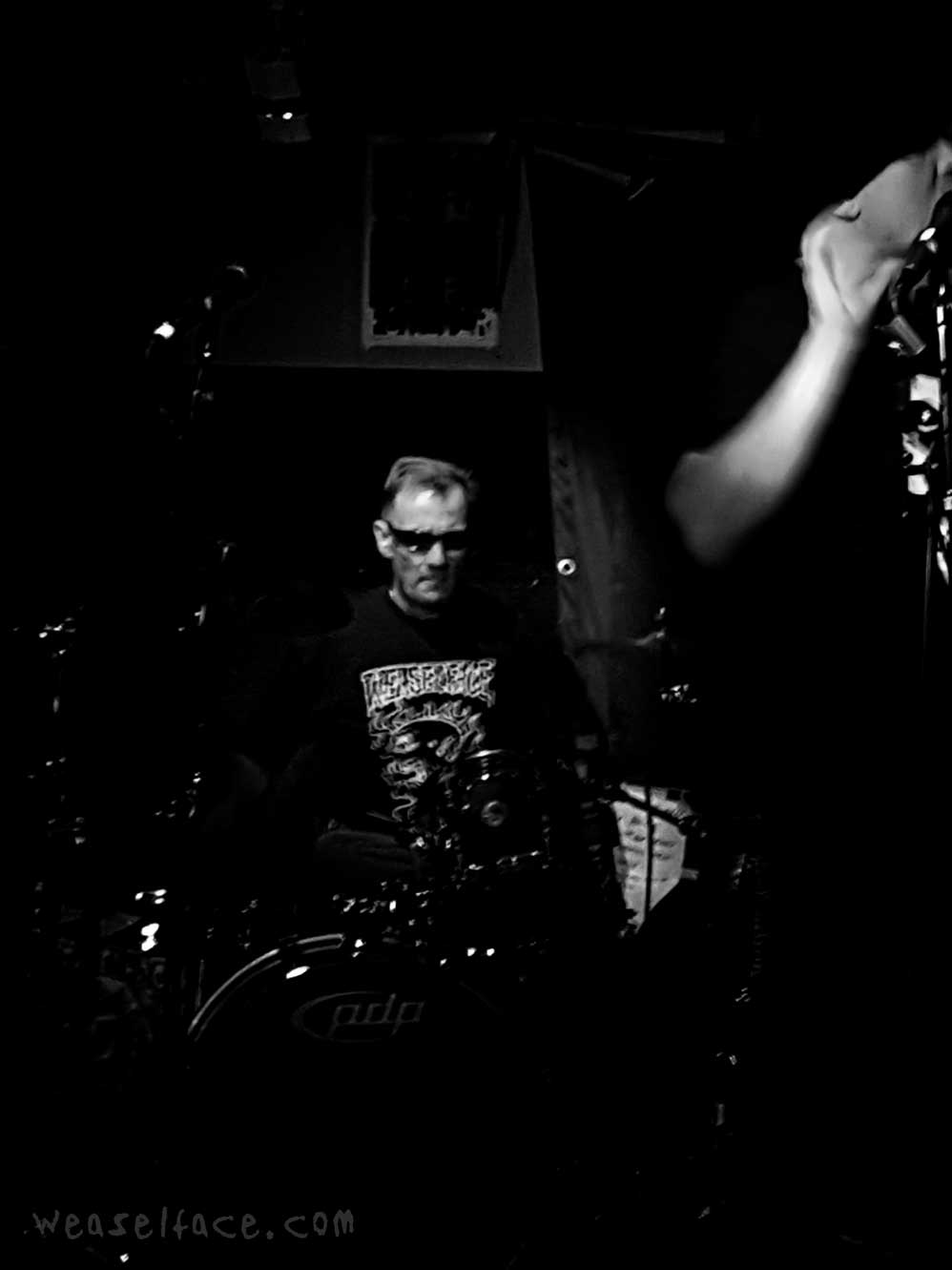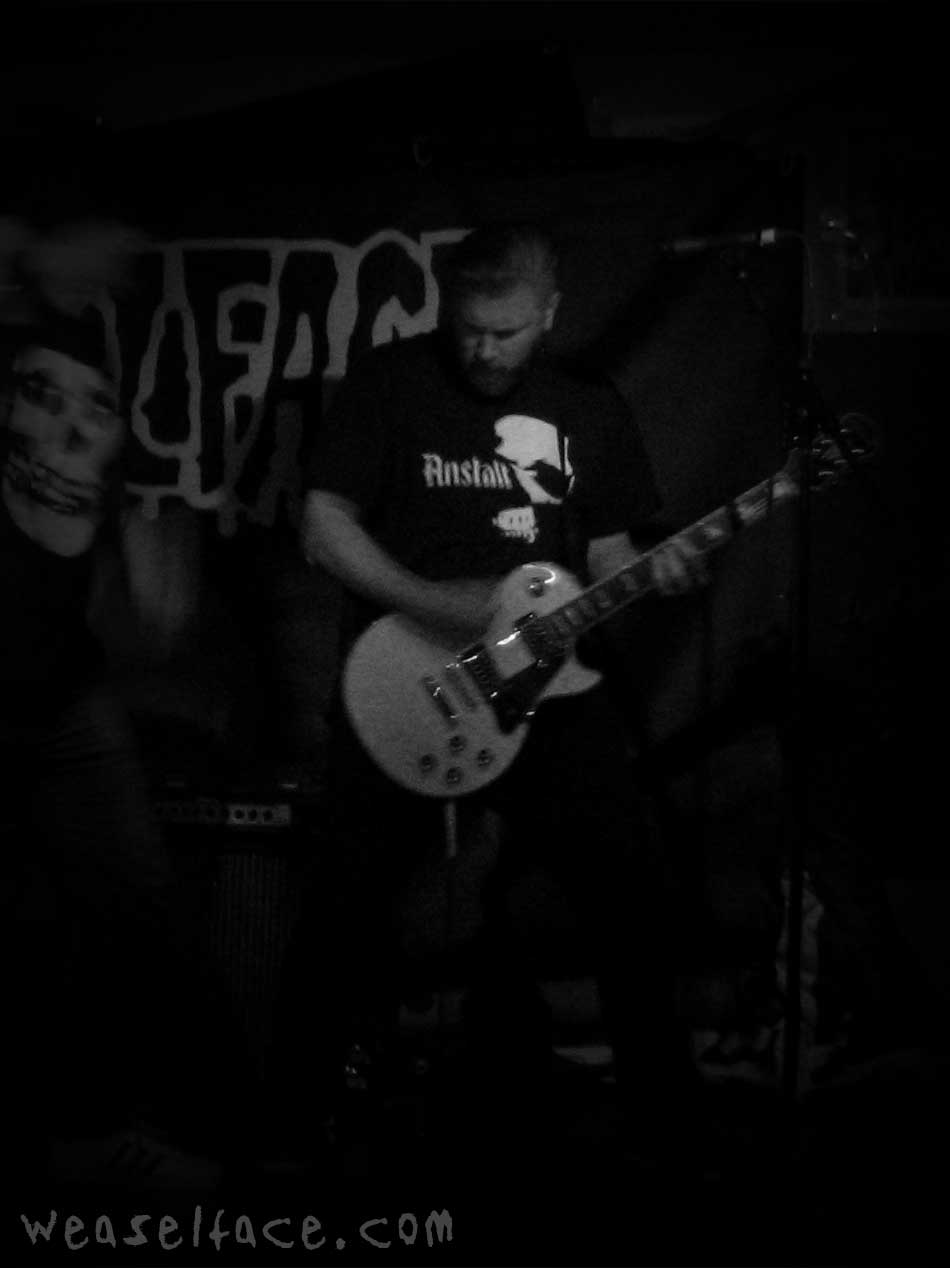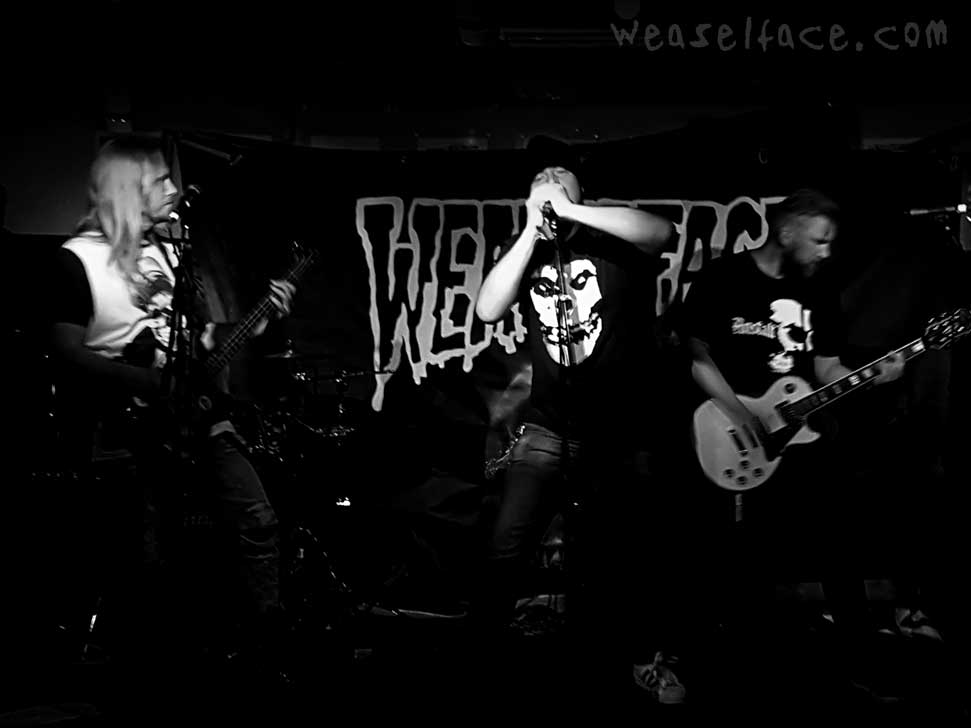 Rocker!
2016-01-12
New video uploaded to youtube!

Rocker By www.weaselface.com from the album "Ace's Only" released 2002.
Recorded by Jocke Petterson.
Produced by Thomas Skogsberg.
Video fotage from:
Pet Sounds Bar with Burning helmets.
Tre Backar, release party for "The punishment is here" with

Karoshi, Skywalkers, Ohlsson har semester.
Tanto Gården with Deat Penalty Bastards.
Video by www.jimmywidegren.com

Rocker!
2015-10-14
We are in Sunlight Studio recording some new tracks with Tomas Skogsberg, stay tuned for the new album ...
2015-05-13
New video uploaded to youtube!
Supersonic!
2013-01-11
2010-03-21
New photo album click here <----

2007-01-27
Just added our video "Give me a fix" to Myspace...
Weaselface Give Me a Fix video
2006-06-25
Updated the mp3 section and Antisocial Psychotic & Useless news below, the songs are now available for download ...
2006-05-25
Weaselface, Are back inn the studio to record yet another couple of awesome tracks...
2006-03-15
New Weaselface CD, Antisocial Psychotic & Useless is out now,
12 brand new tracks.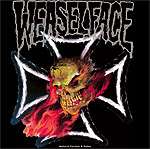 1. fix you up
2. air borne virus
3. Feel like I gonna die
4. I feel horrible
5. going down
6. I tried (but I gave up)
7. sick town
8. we are back
9. on the loose
10. I feel all right
11. burn
12. down and out

2006-02-10
New Weaselface CD, Punks From Hell is out now,
limited edition (1000). 14 tracks.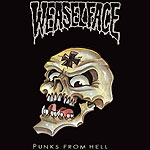 1. Dirt brain
2. Rocker
3. Give me a fix
4. rocket fuel injection
5. Dead when I'm alive
6. Scum bag
7. Weaselface
8. Useless
9. Fire in the house
10. All heroes must die
11. Fire
12. Totally paranoid
13. Cancer
14. Can I be like god

Click title to download full MP3

2005-06-01
Weaselface are back in the studio, putting down 13 new track on vinyl and CD. Here are some pics....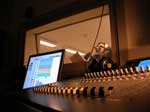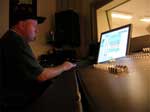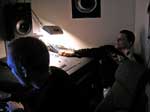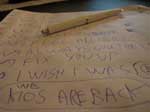 2003-11-28
From the release party at Tanto gården,,,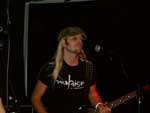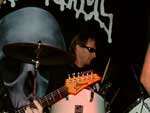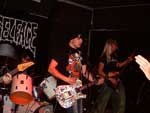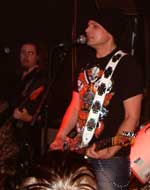 2003 -10-23
The new CD 5 is out, Go buy it!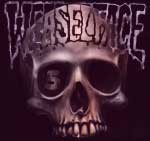 1. Bad habitz
2. By your side
3. missile lover.mp3
4. Broken
5. Naked
6. Johnny
7. Born to loze
8. Nightmares
9. Supersonic
10. shooter.mp3
11. misfit.mp3
12. Suiside solution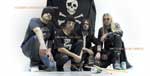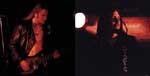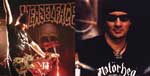 2003-04-14
New Weaselface video, was recorded during the weekend, it will be futured on the upcoming album scheduled for release this fall.
2003-03-26
Someone wanted to se some pics of the band, cant imagine why but anyway here's a pic from a photo session 2 weeks ago. Moore pic's >>>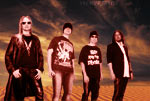 Jimmy W, Mat Slammer, Timmy Snare, T Weasel
2003-03-16
Weaselface/Hellacopters 7" vinyl SPEEDFREAK/BOMBER Purple vinyl, Lim.Ed 500, two Motörhead-covers. available at www.hotstuff.se >>>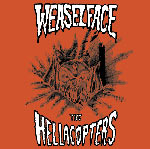 2003-01-17
Weaselface cd's available at www.hotstuff.se >>>
2003-01-03
MP3 OF THE MONTH Download the full version of NEW YORK from Aces Only at www.hardrockinfo.tk. >>>
2002-12-08
Weaselface are working on their next album, 10 songs are moore or less ready 2 B recorded. Recording will take place early next year. >>>
2002-10-10
Our youngest fan ( I think ) sent us a photo!!!
T Shirts available in our merchandise store.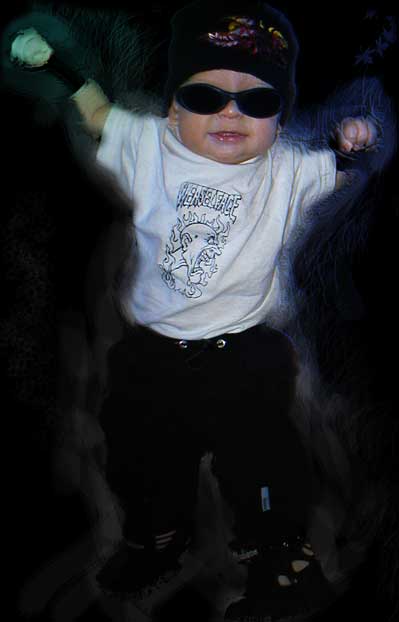 2002-08-07
Release date for the tribute album Sweet F.A.
will be late august or early september.
1869K

2002-08-07
Weaselface guitarist shot! Fred Rock was shot in the face by a small caliber gun while visiting friends in London. Police thinks that the crime was gang related. Fred Rock was taken to the hospital for operation and after removing the bullet from his jaw he could continue his vacation.
2002-05-28
Weaselface enter the studio once again, this time it's to record the famous Sweet song "Set Me Free" which is going to be released on the upcoming tribute to THE SWEET "SWEET F.A."

The tribute to The Sweet will be an international collection with artists from three continents. Besides Weaselface the following artists will be featured; Bruce Kulick with JK Allstar Experience, Sugar Shock, Trash Brats, Queer For Girls, MOB, Erica Jansson, Frankenstein Drag Queens, Sha La Lee, Classic Jazz Band, Qoph, Spiders & Snakes and Sensational Plastma.
2002-05-21
Another one... (In Swedish)
WEASELFACE "Aces Only" (Rosa Honung)

Arton låtar party musik signerad Stockholm är vad som en dag damp ner i brevlådan. Vad passade dessutom bättre än att öppna med en cover på MOTÖRHEADs "Bomber"!?. Att bandets inspirerats av HELLACOPTERS och dylika garage band är troligen något inte ens bandet skulle komma på tanken att neka till. Men det är heller inget att skämmas över. Så länge de släpper stänkare som den här plattan behöver de inte vara oroliga. Sen så har de fått till ett riktigt partysound på sina låtar. En platta som får en tumme upp, men som kan bli ännu bättre i framtiden. Ännu mer hitpotential på låtarna skulle inte sitta fel!




Recension av Daniel Eriksson
https://www.come.to/slavetometal
2002-04-16
The first review of "Aces Only"

WEASELFACE:Aces only - CD, Pink Honey Records

A cool band from Sweden in to a mixture of punkrock and hardrock....some tracks are more in to punk, and some more in to hard rock....damned good anyway!
It might sound silly that they do a cover of Melanie C, but the WEASELFACE version is really great....so damned heavy and cool.
You get 18 tracks + a video track, and all 18 tracks are great, havent seen the video track yet, but I will.
Anyway, if youre in to a mixture of punkrock and hardrock or just some cool punkrock or hardrock - Get this one!
Review by Jimmy Blom
https://www.punk.just.nu
New adress
https://www.hardrock.info.se
2002-03-17
Weaselface's drummer Mikal decided that he needed more time to drink and more time for his other project "No Meat"
So...
Do you live in Stockholm?
Play drums?
Looking for a good time?
If...
YES!
YES!
YES!
Then Mail us ****

-------- 2002-03-06 --------
Weaselface's forthcoming album "Ace's Only" due to be released within the next few mounts. The album includes a video track of the song "Give Me A Fix"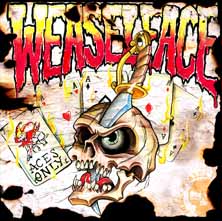 1. Bomber (No sleep for motorhead 2002)
2. Rocker (Recorded by Jocke Petterson.Produced by Thomas Skogsberg)
3. Sunday Morning Hell*
4. Exploited*
5. Rocket Fuel Injection (Recorded by Jocke Petterson.Produced by Thomas Skogsberg)
6. Fire, Fire, Fire (Recorded by Jocke Petterson.Produced by Thomas Skogsberg)
7. I Turn To You* (If that where me 2002)
8. New York*
9. Dead When I'm Alive (Welcome To Punk Rock City 1999 (Recorded by Jocke Petterson.Produced by Thomas Skogsberg))
10. All Heroes Must Die (Welcome To Punk Rock City 1999 (Recorded by Jocke Petterson.Produced by Thomas Skogsberg))
11. Scumbag (From Sweden with anger 1998 (Recorded by Fred "TERROR" Esby))
12. Give Me A Fix (Fuck You 1996 (Recorded by Fred "TERROR" Esby))
13. Shadows Of Belsen (Fuck You 1996 (Recorded by Fred "TERROR" Esby))
14. We Are The League (1998 Recorded by Jocke Petterson)
15. UseLess (1999)
16. Born In Hell*
17. Until I Get You** (11th street tales a tribute to Hanoi Rocks 2000)
18 Death Of Me*** (1996 Produced by Zeb King))
Video track Give Me A Fix

All songs Pink Honey Independent Publishing
except 1,7,14 EMI Music Publishing,
17 Love Kustannus, 18 Warner Chapell

All songs written and performed by weaselface except
1. Kilmister, Clarke Taylor. 7. Melanie Chisholm, Rick Nowels, Billy Stewberg.
14. Ashssa, Blake, Culmer, Exall, Gilham. 17. Andy McCoy. 18. Joey Ramone.

Recorded at sunlight studios except where indicated
* Recorded at Malaise studios 2001
** Recorded at Subsonic studios 1999
*** Recorded at White flower studios 1994


2002-02-10
Weaselface joins Di Onda, A-Team and Rövsvett on the forthcoming CD 4OUT. More info about this project later...
2002-02-09
We still have a few copies left of weaselface's second album "Welcome To Punkrock City" Buy it now!

1. Flying high
2. Fire
3. Totally paranoid
4. Dead when I'm alive
5. Weaselface
6. You love us
7. All heroes must die
8. I don't care
9. Deny Deny
10. Useless
11. To forgive
12. Suck
13. Down
14. I'm dead

2001-11-20
The new Weaselface Flash site is up!!!
Check it out and listen to 3 fresh Weaselface tracks + the Motorhead cover Bomber and 2 oldies, Give me a fix + Dead when im alive.
2001-11-17
Weaselface entered the studio to record a bunch of songs,
among them the murdercover of Mel C's I turn 2 U.
Working titles: Exploited - Lets rockit motherfucka - Sunday morning hell - New York Rocker - I turn to you

2001-09-13
Fredrock from the mighty gothrockers Malaise joins Weaselface.
1996-11-30
Weaselface - Live @ JunkYard - 96-11-30 - Pain